Emergency Roadside Telephone box I.P Visio
Box Emergency Roadside Telephone ERT Housing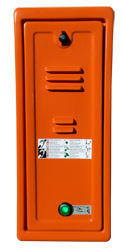 This housing lets an emergency road call treatment. It manages communications between a distress user and an authorized operator of the motorway operating department. Exchanges are done via ETHERNET networks.
Warning by simple pressing the call button
Geographical localization of the caller
Full duplex communication with the operator
Secured power supply 220V
Hearing impaired user assistance
Safety messages broadcasting to the user .
I.P Visio Box Emergency Roadside Telephone Housing maintenance features
Sounds broadcasting downloaded via ETHERNET
Technical supervision in real time; integrated to the PIRAU MMI921 system
Microphone and speaker levels digital setting
Maintenance and setting via ETHERNET
Maintenance and operation logbooks
Saving and signaling lost calls
I.P Visio Box ERT Housing technical features:
Electronic housing: H x W x D: 165 x 105 x 30 mm
CPU: ARM9 to 600MHz with real-time clock
1GB Flash, 256MB RAM
Double Ethernet port including 1 P.O.E
10W audio amplifier into 8 Ohms
Dynamic Microphone input, surrounding noise filtering and anti local echo
Temperature range: -40°C, +85°C
Supply 12Vdc (consumption: 3W)
Tropicalized board in black box with removable connectors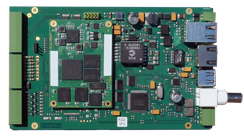 I.P Visio Box ERT Housing functional features
Induction by fugitive pressing on the call button
Waiting message during a direct incoming telephone call
Running information light for hearing impaired user
Safety messages broadcasting
Encoder on board for an internal video camera
Call to 4 appeals servers for complex secured architectures
Real-time reporting of technical reports: power, audio; network, communication server