ETON : Optical Emergency Roadside Telephone (ERT) board

This board lets an emergency road call treatment. It manages communications between a user in distress and an authorized operator of the motorway operating department. Exchanges are done via OPTICAL network.
Warning by single pressing on the call button
Geographical localization of the caller
Full duplex communication with the operator
Autonomous power supply by photovoltaic panel and battery
Hearing impaired user assistance ETON ERN optical network allows 500 km of motorway treatment on only one fiber optic. It ensures calls out coming thanks to a triple secure. Four simultaneous communications are handled on one optical fiber.
ETON : Optical ERT board maintenance features
State of the optical network updated at each alarm clock
Microphone and speaker levels digital setting
Local connection of maintenance-thanks to a friendly configurable software provided
Dynamic statement of optical levels
Control and real time supervision
ETON : Optical Emergency Roadside Telephone board technical features
Only one used fi ber
Complete security
Handling calls from the two endpoints of optical fi bers
Dedicated e-card for 2 Call boxes
Optical reception limit between 2 ETON: -30db
Audio amplififi er 10W into 8 Ohms
Micro with noise fifi ltering and anti local echo
Temperature range : -30°C, +60°C
Power supply 9-36Vcc- Less than 1mA in standby
Weatherproof board in housing with removable connectors
Limiter built-in battery charger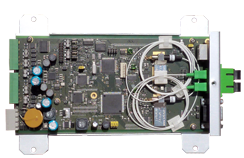 ETON : Optical Emergency Roadside Telephone board functional features
Induction by fugitive pressing on the call button
Waiting message during a direct incoming telephone call
Running information light for hearing impaired user
Continuously callable
Daily-test of the functional state: power supply, audio
Audio message broadcasting (15 mn)
4 simultaneous communications on one optical fiber